2012.04.27 Friday
Hiking "Valdereee, Valderaaa…"
The weather has finally become warmer. It has been a long and cold winter this year. I wonder if it will be a long and hot summer, too! The cherry blossoms were later than usual. But there were many cherry blossom viewing parties at the usual time. In England we do notice Spring, but we do not have parties or large picnics like in Japan to celebrate spring. It is Easter time in England, so it is a bit more religious. The nice weather, however, reminds me of what we do like to do in England when the good weather arrives. We like to go hiking!

I am not sure what the Japanese image of hiking is, but I think there is a wide range of hiking styles. Some people go hiking in a very light way, they go hill-walking. They pack a bag with sandwiches and a thermos flask of coffee. They drive or take a train to a national park, then they walk on the public paths up the hill, which are not very steep or strenuous. They walk for about an hour or two to a good view, then they sit and have lunch. Then they walk back. It is a nice, easy 4 hours in the countryside.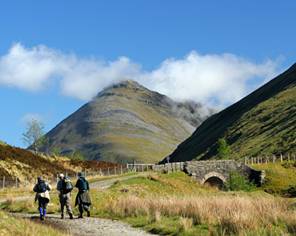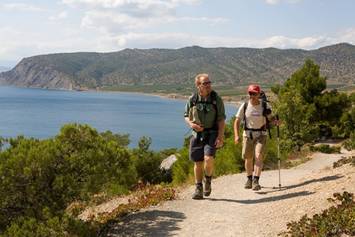 There are others who go for hiking that is a bit tougher than hill-walking. I guess their hiking is closer to the real meaning of hiking. They pack food, a first aid kit, emergency supplies, bad weather kit and so on. They have hiking boots go on a tougher course that involves a steeper climb up a bigger hill. England does not have many mountains, so most people go on steeper hill-walks. The views can be more spectacular, but it is a tougher journey to get there.
The next level up from hiking might be trekking. People pack a tent and their hike takes more than one day sometimes. They take a map and try to find a new or less used path through the national park. It becomes more of a challenge, and thus more of a trek. The famous TV show Star Trek is named trek because it is a long journey finding a new path through space. Trekking involves finding your own way through the countryside.
Maybe the toughest level is not really hiking, but mountain climbing and rock climbing. For those activities, you need special equipment and careful planning. There are challenging mountains in Scotland, so people can go mountain climbing there. The tallest mountain in the UK is Ben Nevis in Scotland, but it is only 1,344m high, which is much lower than Mount Fuji which is 3,776m high.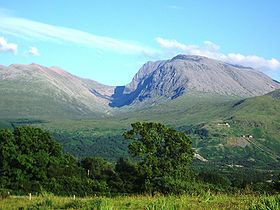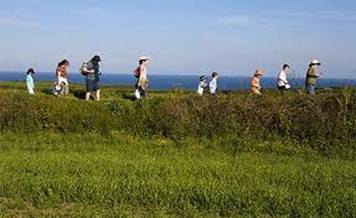 When I lived in England, we would often go hill-walking. We called it hiking, but in truth it was more like hill-walking because it was not so tough and there were not real steep climbs. We usually went to the Long Mynd, which is a national park in the middle of England in Shropshire County. It has an area of 22 square miles and is 10 miles long if you walk the whole path. We would take a train to Little Stretton Station and then walk on one of the main paths to a good view point for lunch. I went there with my family and also with my church choir, who went there every year as a kind of annual trip. I think it was excellent way to spend a day. We had lots more healthy fun than at a bowling alley or amusement park.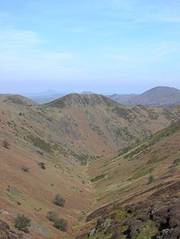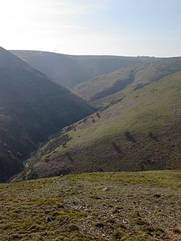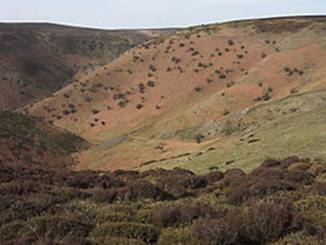 Another popular place for hiking, hill-walking and trekking is the Lake District in Cumbria in North England. It has some very beautiful views of countryside and lakes. It is popular for holidays, too. I went hiking there with my family a few times and I really enjoyed walking through fields of cows and sheep and finally reaching some breathtaking views of the English countryside. Many visitors to the UK go to the Cotswolds to see the English countryside and traditional villages because it is closer to London and the South, but I feel the Lake District is a place of real outstanding beauty, too. For those of you that prefer nature over shopping, then they are really good places to visit when you come to England.

I really miss having a good place to go hill-walking. I don't really enjoy strenuous hiking up half-mountains, but a nice walk in the countryside is lovely. I have asked for recommendations, and have been told about Ontake and Gozaishou, but I am not sure if they are for hill-walking or mountain climbing! If you have any suggestions of where I can enjoy a nice forest walk, hill walk or nice day in the countryside, please do email me your suggestions! The weather is just right for it now.